Campaign Period: April 16, 2017 – December 15, 2017
This campaign offers a sweepstakes to JCB cardmembers who present a JCB card receipt with a minimum single purchase amount of US$100 (multiple receipts cannot be combined) to the JCB Plaza Lounge Honolulu. You may receive up to 5 chances depending on how much you spend.
During the campaign period, make a single purchase of US$100 or more in Hawaii with your JCB card (purchases cannot be combined), and bring the JCB card receipt to the JCB Plaza Lounge to enter a drawing for great gifts!
You get 5 chances at the draw, depending on how much you spend!
Spend US$100.00 US to US$199.99: 1 chance
Spend US$200.00 US to US$299.99: 2 chances
Spend US$300.00 US to US$399.99: 3 chances
Spend US$400.00 US to US$499.99: 4 chances
Spend US$500.00 or more: 5 chances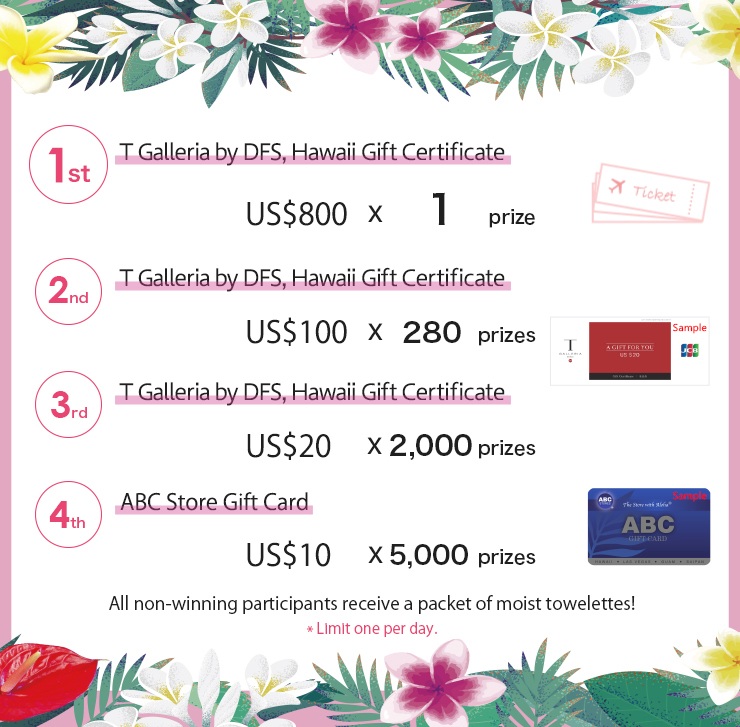 Campaign Prizes
1st Prize: A US$800 Gift Certificate for T Galleria Hawaii by DFS……1 prize available
2nd Prize: A US$100 Gift Certificate for T Galleria Hawaii by DFS……280 prizes available
3rd Prize: A US$20 Gift Certificate for T Galleria Hawaii by DFS……2,000 prizes available
4th Prize: A US$10 Gift Certificate for ABC Store……5,000 prizes available
JCB branded wet wipes for all who participate and do not win the prizes above. Limit one per day.
This campaign applies for all JCB brand card issuing companies including US issued cards†. JCB Prepaid cards cannot be used for this campaign.
The receipt to participate in the campaign must be issued at stores in Hawaii to be eligible.
Cash Advance services are not eligible for this campaign.
One entry per receipt with a minimum amount of US$100, up to five entries.
Participants must appear in person. The last 4 digits of the participant's JCB card must be the same as the last 4 digits printed on the JCB card receipt.
The receipt used to participate in this campaign cannot be used to take part in other lottery-style campaigns being held during the same period.
All information is accurate as of March, 2017. Information may change without notice.
† Some JCB cards are not eligible.
No purchase necessary. Click HERE for details and the Summary of Rules for Playing Sweepstakes in Hawaii.